FlipSide Painting Services : Your Winchester painting company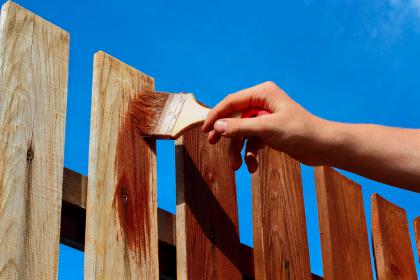 In the market for top-quality house painting services in the Winchester, KY, area? Then you need to look no further than the area's experienced house painters at Flipside Painting. Our experienced team offers top-rated painting services that will get your home looking its best.
Whether you're in the market for interior or exterior painting services, you can depend on our top-notch painting company to provide excellent results in a timely manner. When it comes to your home's paint job, you shouldn't settle for any less than the top-grade quality of work you'll get with us.
And when it comes to your Winchester business, you also shouldn't settle for less than the best as far as its paint jobs go. And you can be sure to get the best with us since we are experienced commercial painters as well as house painters. Want your business to look great so that it can thrive? Then call us for your commercial painting needs!
Top-Rated Interior Painting Services in Winchester, KY
Since you'll very likely spend the majority of your time right in your Winchester home, you should be sure that your home is able to allow that to be the most enjoyable time you'll spend. But if your home's interior paint job is fading and flaking and looking otherwise unimpressive, you might just experience only dull, unenjoyable moods while in it.
To fully enjoy all the time you're bound to spend in your home, you'll need to keep its paint job in tip-top condition. And you can enjoy the best indoor paint job by calling your Winchester painting company for our interior painting services. Whether you need one room or every room painted, you can depend on us to provide quick yet excellent results.
Your Winchester Exterior Painting Pros
Someday down the road, you might want to put your Winchester home back on the market. And when that day comes, you'll want to know that your home has the best possible resale value and curb appeal. But if its exterior paint job is in poor condition, then it will have a hard time getting close to the best of those qualities.
Before you put your home back on the market, you need to be sure it sports a stunning exterior paint job. And if that requires a fresh exterior painting, call the area's dependable house painters at Flipside Painting. We offer excellent exterior painting services that will get your home ready to go on the market with the best resale value and curb appeal.
Dependable Commercial Painters in the Winchester, KY, Area
Do you own a business? If you do, then surely you understand the vital importance that appearances have on the success of that business. After all, if your storefront sports a shoddy, flaking paint job, then you're liable to deter customers rather than bring them in.
Obviously, losing customers is a death knell to any business. So, you'll want to make yours look appealing so that you can attract and retain customers. And to get your business looking great, call the Winchester commercial painters at Flipside Painting for our commercial painting services.
Reviews & Testimonials on FlipSide Painting Services in Winchester, KY
There are currently no reviews or testimonials, check back soon!