Are You Looking For A Lexington House Painter For Your Exterior Painting Project?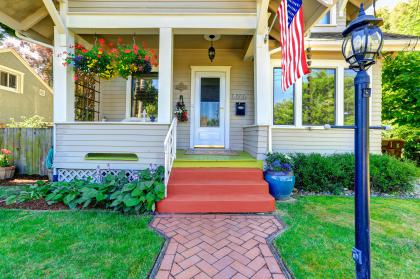 When your Lexington home's exterior coat of paint begins to wear down through the years, you could experience a dip in its curb appeal, resale value, and many other necessary qualities. To regain these qualities, don't hesitate to call an experienced house painter when your exterior paint job begins to wear away.
And for a dependable and top-rated house painter in the Lexington area, look to the pros at Flipside Painting. Our experienced team has the know-how and the expertise to promise nothing short of the highest-quality exterior painting for you.
Does your Lexington home need a fresh exterior coating of paint? Then be sure to call your local painting company, Flipside Painting, to handle it. With the top-rated results from our dependable team, you and your Lexington home will be able to fully enjoy all the great benefits a fresh exterior painting can provide:
Increase Your Lexington Home's Property Value
Do you think you might ever want to put your Lexington home on the market? If so, you'll want to be sure that its exterior paint job is looking beautiful. After all, a home that sports a stunning, new exterior coat of paint can easily command a much higher price than one sporting a shoddy paint job can.
If you think you'll want to put your Lexington home on the market sometime soon, then don't hesitate to call our experienced house painters. With a quick yet thorough and beautiful exterior coat of paint, we'll help you to command the highest possible price for your home.
A Beautiful Lexington Home with Better Curb Appeal
There are a number of things you can do to bolster your Lexington home's curb appeal. You can keep the yard beautiful and tidy. You can get a deck staining if you have a deck. And, of course, you can be sure that your home sports a beautiful exterior coat of paint.
If you're thinking of selling your home, you'll want to be able to catch the attention of potential buyers. And with a beautiful new coating of paint, you can be sure to enjoy greatly increased curb appeal and, thus, get your home sold as quickly as possible.