Top Local painting company in Georgetown, KY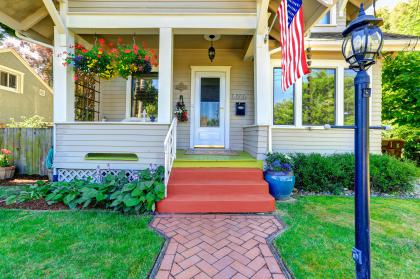 To keep your Georgetown area home looking its best through the years, you need to maintain a beautiful coat of paint. And if you're in the market for a professional painting company to help you do that, look no further than the area's dependable house painters at Flipside Painting.
We offer many top-rated painting services that are guaranteed to get your home looking its best in little time. We strive for excellence in every job we do, so with our dependable team of painters, you can count on receiving only the best results when it comes to your home's painting needs.
And if you own a business in the Georgetown area, you can still have its painting needs met since our painting company also offers top-rated commercial painting services. So, no matter what kind of property you own, you can count on us to keep it looking good with a fresh coat of paint.
Qualified Interior Painters in Georgetown, KY
You shouldn't overlook the importance of maintaining a stunning interior coat of paint. It helps to add beauty and an inviting atmosphere to your home while also helping to clean up your home's indoor air quality. So, once your home's interior paint job begins to decline, you'll want to call us for a fresh interior painting.
Our expert painting company has the experience, the expertise, the resources, and the dedication to excellent results to provide a top-notch interior painting for your Georgetown home. With a fresh interior painting from our expert team, you can fully enjoy all the benefits that an interior painting can provide.
Top-Rated Exterior Painting Services in Georgetown
Maintaining a beautiful exterior painting is necessary for preserving the look and value of your home. And you'll be thankful you preserved those qualities down the road should you decide to sell your home. After all, a stunning exterior coat of paint will allow you the best curb appeal and the highest possible resale value.
If your Georgetown home's exterior paint job is currently in less-than-stellar condition, then don't hesitate to call your local painting company, Flipside Painting. With a new coat of exterior paint, your home will look its best once more, allowing you to enjoy the best curb appeal and to command the highest price.
Your Expert Commercial Painters
For a business to be a success, it needs to be able to draw in customers. And for your business to be able to draw in plenty of customers, you need to offer more than just great products and services: You also need to offer an attractive, inviting storefront. But if your storefront sports a shoddy paint job (inside or out), you might struggle to bring in the customers you need.
To be sure your business is as successful as can be, make sure it looks as inviting as possible. So, if your business is suffering from a shoddy, worn-out paint job, give our painting company a call. With our commercial painting services, we'll get your business looking its best so that we can help to get the customers flocking.
Cabinet Refinishing
Your cabinets are easily one of the most standout features in your Georgetown home's kitchen and bathrooms, but like all other things, they can become damaged over time, or might just start showing signs of wear. When you're looking for a great way to restore the beauty of your cabinets without having to pay the price to have them completely replaced, cabinet refinishing can be a wonderful alternative. With cabinet refinishing, you can get the service you need to make your old cabinets look like new once again, giving you all of the aesthetic benefits of replacement without the cost that usually comes with it.
Interior Painting
The interior paint on the walls of your home set the tone for your home's entire design. The right interior color can make your home feel warm, welcoming, and comfortable for family and friends alike, but the opposite is also true. If your home's interior paint has seen better days, or you're just ready for a bit of a change and want to try something new with the interior look of your home, we're the local painting contractors who can help you get the job done. Our team of skilled painting pros will work with you directly to help you find the perfect new color to achieve your design goals for your home.
Painting Contractor
Whether it's for the interior or exterior of your Georgetown home, a new coat of paint is a great way to rejuvenate the overall look and feel of your house. A new coat of paint can be a fast and inexpensive way to update and improve the beauty and value of your home, as well as liven up your home's interior and make the space feel more comfortable and inviting. If your home is ready for a fresh new look, give our team of skilled painting contractors a call today and let us show you some of the possibilities.
Cabinet Painting
Your cabinets play a major role in the function of your home, and when yours start to look a bit worse for wear, replacing or refinishing them isn't always an option. With our high-quality cabinet painting services, however, you can breathe new life into your old cabinets, making them look like new once again. Whether you're just looking to freshen up the look of your old kitchen or bathroom cabinets, or you're trying to coordinate them with your new interior paint job, our team of skilled professionals are ready to help you make it happen.
Reviews & Testimonials on FlipSide Painting Services in Georgetown, KY
There are currently no reviews or testimonials, check back soon!