FlipSide Painting Services in Nicholasville, KY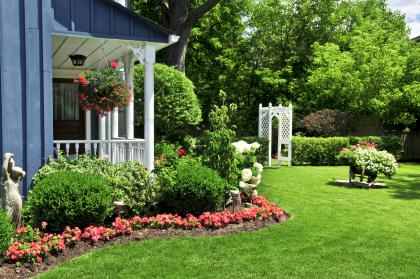 Is your home's interior paint job looking a little bit rough these days? What about its exterior paint job? In need of some touching up? If that's the case for your Nicholasville home, then you need to call the area's dependable painting company, Flipside Painting.
We offer top-rated interior and exterior painting services that can get your Nicholasville home looking beautiful and brand new. We make it our mission to provide excellent results in the quickest time we are able, so with our painting services, you can get a beautiful-looking home sooner rather than later.
And should you be in the market to get your business looking its best, then you're still in luck with us. After all, we also offer top-rated commercial painting services, and with these services, we'll get your business looking its best so that it can be its most successful.
Quality Interior Painting Services in Nicholasville
It's important that you maintain a beautiful and high-quality interior painting within your Nicholasville home. After all, you'll spend much of your downtime right in your home, and if you spend all of that time surrounded by dingy walls, then your mood is liable to suffer. On top of that, your health could suffer as your indoor air quality wears away with your paint job.
If you want to continue feeling your best mentally as well as physically, then you need to be sure that your home always sports a stunning, high-quality interior paint job. And if it currently does not, then you need to call our experienced house painters today. With our interior painting services, we'll get your home looking its best once more.
Get Your Nicholasville Home Looking Great with Our Exterior Painting Services
Are you thinking of selling your Nicholasville home anytime soon? If you are, then you need to be sure you've done everything you can to increase its resale value and curb appeal. Unfortunately, if your home's exterior paint job is in poor condition, you'll struggle to get anywhere near that quality of value and curb appeal.
Fortunately, though, a shoddy exterior paint job doesn't mean you have to resign yourself to a lower resale value and curb appeal. Instead, you can simply call your local house painters at Flipside Painting, and with a fresh exterior coat of paint, we'll get your home ready to command the highest price and display the best curb appeal when it goes back on the market.
Top-Rated Commercial Painters in the Nicholasville Area
In the business world, appearances are everything. You could offer the best products and services in your field, but if your storefront only deters rather than attracts customers, people will likely never know what a standout business you run. So, you'll want to keep your business looking its best to ensure that it can be its most successful.
And a great way to ensure the beauty and success of your business is to call your Nicholasville commercial painters. We offer top-quality commercial painting services that will get your business looking beautiful inside and out so that you can draw in all the customers and business you need to.
Reviews & Testimonials on FlipSide Painting Services in Nicholasville, KY
I have had Johnny n his father do painting and repairs for me for years. The work was always done quickly and I was more than satisfied. I trust them so much that I give them the keys to my home and the work is often done when I am not home. I have absolutely no hesitation in recommending FlipSide. I would give a 10 star rating if possible!!!
Can't say enough about this company! They have done an excellent paint project for me at my house! I highly recommend them..you won't be disappointed!!