Fence Staining Services For Your Lexington Area Home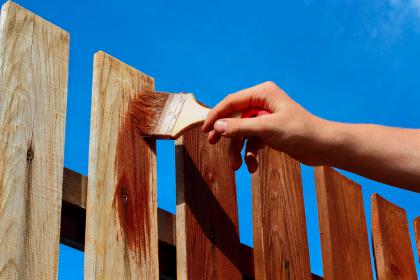 If your Lexington home contains a fence, then you will need to get semi-regular fence staining services to keep it looking its best and standing strong. And if you're looking for a top-quality fence staining, then call the area's experienced painting company, Flipside Painting.
Our dependable painters can provide high-quality fence staining services that will help to keep your fence looking its best. And with a beautiful, great-looking fence, you can enjoy increased curb appeal and even property value. If you think you'll ever want to sell your home, then you'll be want to go ahead and get a professional fence staining.
To get the best and most dependable fence staining for your Lexington home, be sure to have yours handled by the experienced painting company, Flipside Painting. Our dedicated team members will provide a high-quality fence staining that will allow you to fully enjoy all the benefits this service offers:
Better Curb Appeal thanks to a Fence Staining
Do you think you'll ever want to sell your Lexington home? If you do, you'll want to be sure it sports plenty of curb appeal so that you can get it sold as quickly as possible. And nothing will bolster your home's overall curb appeal quite as thoroughly as a fence staining will.
Combined with a deck staining, our fence staining services will get the exterior of your Lexington home looking beautiful and new in no time at all. If you want to catch the eyes (and wallets!) of potential home buyers, then you can't go wrong by calling us for our staining services.
Longer Life for Your Lexington Home's Fence
Your fence provides a valuable service of adding privacy and security to your Lexington home. So, you'll want to keep your fence in good, strong condition so that it is able to provide those services for many, many years to come. And a great way to add longevity to your fence is to get routine stainings.
As we provide routine fence staining services, we'll be able to ensure your Lexington home's fence is protected from the elements. All the while, we'll be able to keep you abreast of issues developing with your fencing so that you can have those issues resolved before they can snowball into larger problems down the road.