Deck Staining Services For Your Lexington Area Home
A deck can be a wonderful addition to your Lexington home, as it will provide a great place to sit and relax with friends and loved ones. And to be sure that your deck will continue standing strong and looking its best, be sure to call the painting company, Flipside Painting, for our deck staining services.
Routine deck stainings will help your Lexington home's deck to look its best. Besides this aesthetic benefit, routine deck stainings can also help to keep your deck standing strong -- while also keeping you and your loved ones safe!
To fully reap the aesthetic and practical benefits that routine deck stainings can provide, be sure to have this service handled by the experienced pros at Flipside Painting. We have the experience, expertise, and resources to provide top-quality deck-staining services that will help your deck fully enjoy the benefits mentioned above:
Improve Your Lexington Home's Resale Value with a Deck Staining
Your Lexington home may be the center of your life, but like many homeowners, at some point, you may decide that you're ready to let your home be the center of someone else's life. So, someday you might put your home back on the market, and should that day come, you'll want to be sure that you get the best possible price for it.
If your home sports a dirty, unsightly deck, then good luck commanding the kind of price you KNOW it could be worth. The good news is that if this is the situation you're dealing with as you look to put your home on the market, you can always call your Lexington house painters at Flipside Painting for a thorough, high-quality deck staining.
Deck Stainings Can Help to Protect Your Deck
In the meantime, you'll want to get the fullest enjoyment out of your Lexington home. This, of course, means ensuring that your home is as safe as can be. But if your home's deck is old, worn-out, and teeming with harmful growths, you could compromise a great deal of your safety and well-being while in your home.
If you want to ensure your best and most guaranteed safety, then you need to call your Lexington house painters for a professional deck staining. Our staining process will help us find and address problem areas developing on your home's deck. Thus, we'll be able to best ensure that you are as safe as can be in your home.
Latest Projects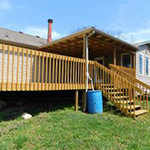 Lexington Kentucky Deck Staining
This deck needed some serious TLC before our Lexington painting contractors arrived. No protective coating had been applied after the deck was build. Needless to say the transformation speaks for its […]
---